Regular Tuesday Night Social
Tuesday Night socials are held at the Maidenhead Inn on Winchester Street at the Top of Town in Basingstoke, Hampshire.

Come and join us at any of our regular Tuesday Night Social from 9pm following the Open Evening at Basingstoke Makerspace. Our Social Nights are weekly pub events that provide the opportunity to meet lots of members, plan events or promote your own events.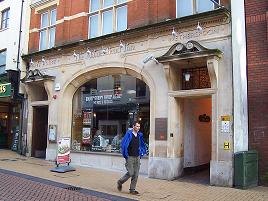 Prospective Members
Prospective members are always welcome to attend any Tuesday social night at the The Maidenhead Inn. The social night is a good opportunity to meet members of Active Hampshire and there will always be a Club member to act as the host for the evening.

Look for the Basingstoke Friends table tent sign to find where we are sitting,. we are normally to be found in the front part of the bar area.
A vibrant Club Night leads to more momentum for organising events and so to a better program!