Live music at "The Loft", Lychpit Community Hall
Fri 29 Mar 2019 at 20:00 to 23:00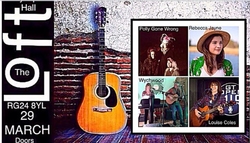 Do you fancy some music to end your week?

Go along from 8.00pm for "The Loft" at Lychpit Community Hall, a beautiful performance platform for local talent. Last Friday of every month. Entry is only £3 on the door for non-performers. This is an external non-hosted event ...

Bring your own drinks either with you ... or buy them from Tesco next door on the way in.


The music is great and it's a superb way of winding down at the end of the week.