Skeptics: Secret history of the CIA lethal drones
Thu 30 May 2019 at 19:30 to 21:30
Winchester Discovery Centre, Jewry Street, Winchester
England
---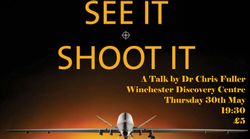 Basingstoke Friends members are invited to join Bob at the talk hosted by Winchester Skeptics In The Pub. Tonight's talk is titled "SEE IT SHOOT IT - Secret history of the CIA's lethal drone programme" and is hosted by Dr Christopher J. Fuller who is a lecturer in modern U.S. history at the University of Southampton.
Winchester Skeptics hosts a guest speaker on the last Thursday of every month. They provide an opportunity for people who are interested in science, skepticism, rationalism and critical thinking to socialise and discuss matters of interest.
WHAT'S THE EVENING ABOUT?
This eye-opening talk will uncover the formally classified history of the most important instrument of U.S. counter-terrorism today: the armed drone. Drawing upon research conducted for the completion of his recent book, See It/Shoot It, published by Yale University Press, Dr Christopher Fuller will reveal that, contrary to popular belief, the CIA's covert drone program is not a product of 9/11. Rather, it is the result of U.S. counter-terrorism practices extending back to an influential group of policymakers within the Reagan administration.
THE SPEAKER:
Dr Christopher J. Fuller is a lecturer in modern U.S. history at the University of Southampton. His research and teaching focus upon American foreign policy, in particular, the origins and conduct of the War on Terror; an exploration of the United States as a post-territorial empire; and the role played by the Internet in both enhancing and undermining American national security. He is a joint U.S./UK citizen, and for the first time in a long time, feels stuck between a rock and a hard place.
He tweets at @DrChrisFuller.
THE VENUE:
Tonight the suggested donation (at the door) for each talk is £5 which doubles as an entry into a book raffle.
The Licensed front cafe bar at the Winchester Discovery Centre area will be open from 7.00pm. The talks for Winchester Skeptics in the Pub start at 7.30pm in the main theatre.
SKEPTICS IN THE CURRY HOUSE ...
After the show, there is a group of Skeptics who go to the nearby Gurkha Inn for a late night curry. Everyone is welcome to join in if there is space ... it is first come, first served on spaces.
This event is hosted by the Winchester Skeptics in the Pub